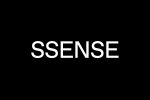 SSENSE
About the Company
SSENSE (pronounced [es-uhns]) is a global technology platform operating at the intersection of culture, community, and commerce. Headquartered in Montreal, it features a mix of established and emerging luxury brands across womenswear, menswear, kidswear, and Everything Else™.
SSENSE has garnered critical acclaim as both an e-commerce engine and a producer of cultural content, generating an average of 100 million monthly page views. Approximately 80% of its audience is between the ages of 18 to 40. It is privately held and has achieved high double digit annual growth and profitability since its inception.
We are always on the lookout for top talent to join us as we embark on bold and challenging initiatives. At SSENSE, each employee plays a critical role in driving the organization's strategic plan forward. Join a world class team continuously pushing the limits of traditional e-commerce in the relentless pursuit of excellence and innovation.
Our environment is open concept, fostering a natural flow of ideas and instinctively promoting teamwork and transparency. We work from long communal tables, break-out alcoves, standing desks and quiet rooms with leading edge tools and equipment.
Our work is varied and ambitious. We have a roadmap full of challenging projects to keep you stimulated and motivated, with a management style based on transparency, collaboration, and performance.
Employees enjoy generous merchandise discounts sitewide, competitive salaries and comprehensive group insurance.