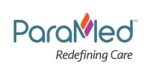 ParaMed Home Health Care
About the Company
When you choose ParaMed, you access our qualified personnel and gain from our 40-year history of providing medical and non-medical support services and a 10,000 member strong workforce. Our success and growth stems from everyone, at all levels of the organization, honoring every day our five core values of Show compassion, Invent opportunity, Be there, Strive for better, and Connect with others. 
These values are the foundation of our company and set the standard for everything we do; they translate into high client satisfaction rates, superior client safety, and into a collaborative and focused working environment.
Show compassion: Naturally understanding another's needs and wants.  Having the ability to act appropriately without asking.  Knowing that to be human is to care.
Invent opportunity: Taking advantage of insights and opportunities to create new ways of doing things.  Naturally going beyond what is dictated.  Rewarding invention.
Be there: Being able to count on each other, and making sure you're there when your clients need you.  Knowing you have each other's back.
Strive for better: Having a positive and hopeful outlook and sharing it with clients and each other.  Naturally striving for, and expecting, better outcomes.
Connect with others: Honest and frequent communication with each other and our clients.  Using every opportunity to strengthen relationships.  Leveraging technology to enhance care.