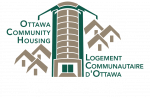 Ottawa Community Housing Corporation
About the Company
Ottawa Community Housing (OCH) is a landlord who provides 15,000 homes to 32,000 residents including seniors, parents, children, couples, singles and persons with special needs within many communities across the City of Ottawa. As the largest social and affordable housing provider in Ottawa and the second largest in Ontario, we manage two-thirds of the City's social housing portfolio.
But we are no ordinary landlord. We are partner, supporter, and cheerleader in the lives of some 32,000 residents who live in affordable and social housing in Ottawa. Through our vision, mission and values, OCHC provides homes that link people in need to supports and services that can help them lead healthy, safe and fulfilling lives. Call Centre, maintenance and community safety services are available to the tenants 24 hours a day, 7 days a week. While we are a non-profit organization, funded by and operating at arm's length from the City of Ottawa, OCHC operates a lean, high-functioning business model, with a social purpose that is well regarded across the social housing sector in Canada and abroad.
The work we do at OCH enables our tenants to fully participate in the socio-economic opportunities of the City.  By joining our team, you will play a vital role in the development of safe and healthy communities.  Together, we build homes and communities that embrace diversity inclusion.
At Ottawa Community Housing, we strive to represent the diversity present within the communities we serve. We are committed to engaging employees in creating a workplace culture of inclusion and belonging, where everyone can bring their authentic selves to work and feel valued. Our employees come from all different backgrounds, age groups, sexual orientations, speak a multitude of languages, and share different experiences and perspectives. We would not have it any other way.
OCH has been recognized as one of National Capital Region's top Employers for five years in a row. Click here to learn what makes us different: https://reviews.canadastop100.com/top-employer-ottawa-community-housing
We are proud because every day we make a difference!