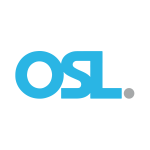 OSL Direct Services
About the Company
OSL is a dynamic, people-first agency providing sales solutions for our client's most complex problems.
In a world where sales have become impersonal and disconnected, we work to bridge the gap between you and your audience. We apply our analytics, strategic thinking and personal approach to help some of North America's most recognized brands and always deliver measurable results. Because when you partner with us, you get customers who see your brand as the winning choice.
Building successful relationships is at the core of OSL's blueprint. OSL was established in 2012 to provide clients with custom-designed, strategic sales solutions in retail, direct sales, merchandising and customer acquisition. With that crucial, brand-customer relationship totop of mindOSL has continued its momentum, perfecting the art of sales relationships and solutions that inspire growth.
Today, a diverse, passionate team delivers award-winning sales and customer experiences for our clients. OSL works in over 2,000 retail stores across North America and employs field marketers across Canada. Our continued growth is balanced and strengthened by the long-term relationships we've built with customers, clients and local communities.
Company Video