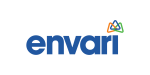 Envari Energy Solutions
About the Company
The world is changing and so are we.
For over 20 years, Envari (originally known as Energy Ottawa) has provided businesses with innovative solutions to save energy, improve financial performance and reduce environmental impacts. In these unprecedented times of change, innovation demanded that we adapt.
 
A new energy and a redefined method.
The world is changing quickly and our method for approaching new challenges must be adaptive. With a lens on the future, we've sharpened our methodology and we're guiding clients towards making better long-term energy infrastructure choices. Today, more than ever, we're helping customers face the future with optimism.
We've changed our look.
At Envari, we're driven by change. By embracing change, we align with the evolving nature of energy and technical innovation. Our new logo harmonizes the symbol for change, the delta. Arranged strategically, the tri-delta symbol mirrors the natural beauty found in the tulip – Ottawa's official flower. The icon represents our desire to guide energy efficiency, business efficacy and environmental sustainability: three pillars we are revolutionizing, as we work with our valued clients.